Your Clients Hire You to Guide Their Financial Growth...
Our Clients Hire Us to Guide Their Business Growth.
Are you not sure who your ideal client is or where to find them?
We interview your ideal clients and referral partners to determine common themes.
Are you overwhelmed by all the marketing options and what to use when?
We develop marketing recommendations based on the derived data obtained during strategic interviews.
Are you concerned that none of your marketing ventures provide ideal ROI?
We create a custom 12-month implementation marketing plan including methods to track ROM (Return on the Moment).
---
---
Strategic Plan Design: A Primer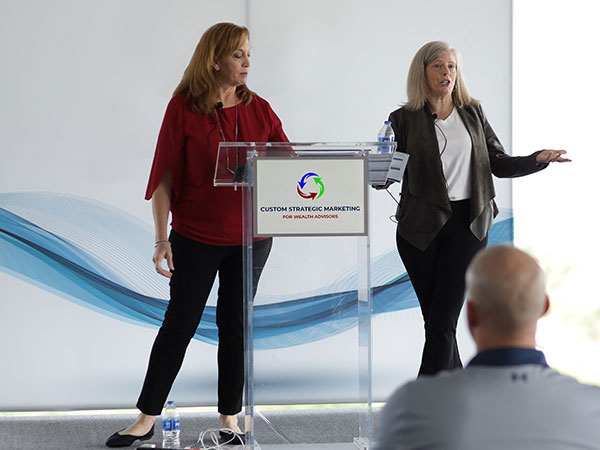 You're spending on marketing because you know how you're going to grow your business.
But you're not seeing the desired results.
There's a reason conversion rates within the industry hover between 3.5%. And it's not for a lack of trying, or proper budgeting.
Our Process
We've developed a powerful, end-to-end process to straighten out your marketing jumble so you can reach more of your ideal clients – in ways they're going to respond to.
From helping you identify actionable goals to designing and implementing a strategy tailored to your ideal clients' needs, we take you through every step of the process to maximize your "return on the moment."
Not only that, we do all the heavy lifting. Because you shouldn't be consumed by your marketing. You should be focused on what you do best: delivering exceptional service to your ideal clients.
Are you ready to vault past that 3.5% conversion rate with your marketing? Click the button below to get started.
Our unique backgrounds and experiences combine to offer perspectives that others can't. Together, we will explore all the marketing routes available to you!
"Angela and Elyse created a strategic marketing plan targeting my Ideal Client. They have a thumb on the pulse of the industry and are very easy to work with. There was very little heavy lifting on my part to create my marketing plan, which made the process very simple. They have also been there for me as extended members of my team to help figure out the marketing option, so I don't have to."
"I highly recommend the services offered by Custom Strategic Marketing for Wealth Advisors. I have seen front and center what they put together for their clients and can only hope that other advisors work with them. The insights they will get from their audience and opportunities for business growth is astounding!"
"I am extremely pleased with [their] quality of work and the value delivered. I would highly recommend [the process] to anyone who needs a top-notch marketing champion."