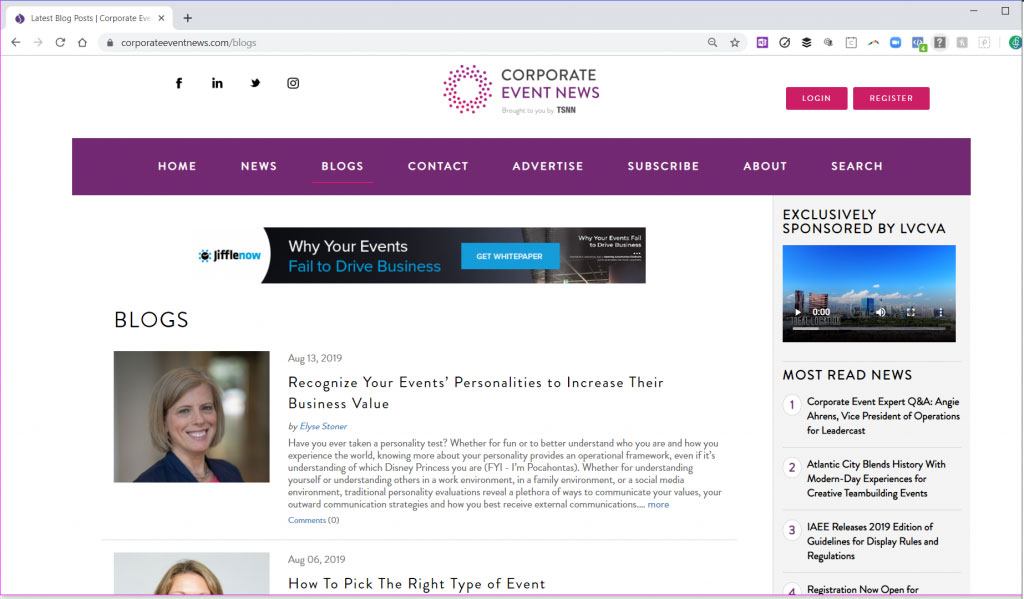 CORPORATE EVENT NEWS GUEST BLOG AUGUST, 2019
January 6, 2020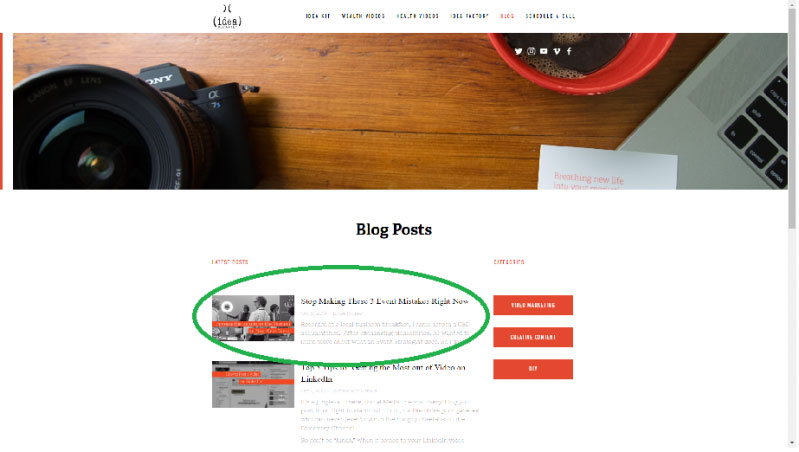 SHARED FRESH PERSPECTIVE ON IDEA DECANTER BLOG – OCTOBER, 2019
January 6, 2020
As a marketing professional at a mid-major athletic program, I would attend national collegiate athletic conferences, listening to speakers from large, land-grant, research schools would share how they filled their 100,000 seat stadiums via media campaigns, multi-layered sponsorships and booster clubs, all strategies that weren't available to programs of our size. Instead of being discouraged or tuning out, I tuned in to what they were really doing and synthesizing the ideas into programs that would work in my market, my university and my brand. For example, when Colossal U. shared about their mini-mart partnership that put discount tickets into 10,000 locations within a 500 mile radius of campus AND they paid a sponsorship fee AND they paid for all the printing, I synthesized the program into a partnership with a mini-mart vendor (like a carbonated beverage company), who in turn used their vendor leverage to co-promote a ticket discount opportunity, forgoing the sponsorship fee and sharing the printing costs three ways.
Synthesizing ideas is what Fresh Perspective Consulting is all about. Let's take ideas and strategies learned from other marketing spaces and apply them to my clients' needs.
Below I've synthesized The 2019 Experiential Marketing Trend Report, published by Event Marketer and Agency EA, a Chicago-based, full-service brand experience agency. Just like those large, land grant research institute athletic programs previously mentioned, companies like Agency EA focus on serving Fortune 500 companies with budgets to match, so let me share their ideas, synthesize them and bring a Fresh Perspective to your event strategies.
Trend #1 – Location Integration
Use your environment as a motivation for your events, if you can. This integration shows originality, brand alignment and creates memorable opportunities, opportunities that only you, your program, your business or your institution can provide. If your goal is to grow your business, can you host your event at a plant nursery? If your event goal is to educate attendees, can you use a community classroom?Getting creative has no fee and will surely pay dividends in the end.
Trend #2 – Keen to Be Green
Include sustainability into all aspects of your event. Sustainability comes in many different packages – locally sourced entertainment and food is just as green as using paper straws and compostable forks. Sustainability isn't just a brand characteristic anymore. Clients want to do business with organizations that care for people, not just themselves. Sustainability is an easy, low-cost, low overhead, highly-visible way to show you care.
Trend #3 – All Attendees Welcome
Welcoming and inclusive events aren't just about wheel-chair accessibility any more. Are you providing amenities that accommodate familial obligations, dietary restrictions and gender needs? Think about child care, gender neutral restrooms, lactation rooms and menus that offer more than a meatless version of your main course for your plant-based consumers. Check out what the Minnesota Vikings are doing for a growing market segment. There are many clubs, organizations and departments in your network or on your campus who will gladly coach you or partner with you (see Trend #10) on these topics.
Trend #4 – It's Not Personal, It's Hyper-Personal
Ever feel lonely in a crowded room? You don't want your guests to feel that way, that's for sure. A few ideas to include people is to recognize returning attendees, recognize and support new attendees, plant the room with staff/ volunteers whose role is to engage with as many people as they can. Your ROM increases when attendees feel connected.
Trend #5 – Big Data, Big Results
Fortune 500 companies use all kinds of whiz-bang tech to get immediate attendee feedback (wearables, RFID & NFC locators), but that's only one way to cull data to increase your ROM. Are you using event management software? If not, start there. There are many inexpensive programs that allow you to collect attendee data as they sign up for your event. Not only can you learn where they are coming from, how they heard about your event and the best way to contact them, you are laying the groundwork to use data to determine which events have the highest attendee yield, which type of events appeal to your desired target audience and do items like location and time of day affect your results. Another #FreshTip – analyze your post-event surveys. Countless groups distribute a survey, but don't take the time to analyze the results.
Trend #6 – Quality over Quantity
"By digging deep into the why behind events and having every event element ladder up to that, brands are making smarter spending decisions and delivering focused experiences that produce greater success."
This is an important rule, regardless of your budget size. Any event without intentionality is one that is a waste of financial and human resources. Clearly stating the why of you event helps you set goals and provide measuring points along the way, which will then allow you to evaluate the overall event against your larger goals. Need a third party to help review your events to determine which are serving your purpose and which need to be retooled or retired? I know where you can get that fresh perspective.
Trend #7 – Take the "work" of networking
The word networking is wrought with emotions. People either love it or hate it. Here's the thing though, we know that events where people connect are more memorable than those where they don't, but yet, no one (other than me) really likes a networking event. So, don't make your attendees do the networking "heavy lifting". You can help them make connections by providing attendee lists before the event, incorporate a way for people to meet (provide a cue card of questions at registration) or have a project where people need to work together instead of standing around at a cocktail party. Your ROM increases when people connect at your events.
Trend #8 – Stages that Shine (on site and online)
Remember that your event can have a life outside of the room/ venue where it's happening IRL. You should actually plan on that. Help attendees share their experience on social media platforms with hashtags, digital photo booths and photo op spaces. Have a strategy for the message you want presented. Also, you should consider how you will use this event to create content. Will you have a live stream or on-demand viewing? Will you share raw or packaged video for each of your speakers to share through their digital avenues? Always keep this in mind when you're planning speaker positioning, staging, lighting and camera set-ups.
Trend #9 – Forge Your Own (event format) Path
Change up your event format to keep guests guessing. Just because an alumni event at a basketball game has always included balloons and pom-pons, doesn't mean EVERY alumni event at a basketball game has to! Trend #9 is also about introducing the element of play into your events. Play doesn't have to be expensive. Think about the fun you had as a child. Most of that fun didn't cost a thing. As this study's author says:
"Play (fun) suspends guests in a state between the known and the unknown, the ideal state for learning new things and being open to new experiences."
Want to learn more about the Power of Fun? Check out this book: The Power of Fun by David Raymond.
Trend #10 – Inspiring Influencers and Smart Sponsorships
Many of us already engage influencers in our marketing strategies without really thinking about it: "If Bill is in the room, then people will know this is a high-roller event." or "Invite Jasmine to be a table captain because she travels in an affluent circle and she'll bring her friends along." You can also use sponsorships as an influencer tool. Be strategic with your influencers through designing goals and create tools you will use to reach those goals. Remember, some influencers bring treasure (money), others bring social media followers while another group will draw a crowd. Know what you want to achieve and provide the tools they need to help achieve your goals.
Are you using any of these ideas in your events? I'd love to hear about them. You can email me your success stories at Elyse@TheFreshPerspective.net or we can talk about it. Want to create new success stories through a fresh perspective? Click here to set up a time to talk.